Discover an easy and mouth-watering Pad Thai recipe that will transport you straight to the streets of Thailand. With rice noodles, shrimp, peanuts, and a sweet and tangy tamarind sauce, this dish is perfect for a quick and delicious meal.
Delicious Pad Thai Recipe: A Mouth-Watering Thai Street Food Delight
Pad Thai is a popular Thai dish that has gained immense popularity across the globe. It is a stir-fried noodle dish that is traditionally made with rice noodles, eggs, vegetables, and peanuts, and is flavored with a sweet and tangy tamarind sauce. This dish is typically served as street food in Thailand and is a staple in many Thai restaurants worldwide. If you're a fan of Thai cuisine, you're going to love this easy and mouth-watering Pad Thai recipe.
Ingredients:
8 oz. rice noodles
2 tablespoons oil
1/2 lb. shrimp, peeled and deveined
2 garlic cloves, minced
2 eggs
1 cup bean sprouts
1/2 cup scallions, thinly sliced
1/2 cup roasted peanuts, chopped
2 tablespoons fish sauce
2 tablespoons tamarind paste
1 tablespoon sugar
1/2 teaspoon red pepper flakes
Lime wedges for serving
Instructions:
Soak the rice noodles in hot water for 20 minutes, or until they are softened. Drain the water and set aside.
In a wok or a large skillet, heat the oil over medium-high heat. Add the shrimp and garlic and stir-fry until the shrimp is cooked through, about 2-3 minutes.
Push the shrimp and garlic to one side of the wok and crack in the eggs. Scramble the eggs until they are cooked and then mix them with the shrimp and garlic.
Add the softened rice noodles to the wok and stir-fry for 1-2 minutes until the noodles are coated in the shrimp and egg mixture.
Add the bean sprouts, scallions, and peanuts to the wok and stir-fry for another minute until everything is well combined.
In a small bowl, mix together the fish sauce, tamarind paste, sugar, and red pepper flakes. Pour the sauce over the noodles and stir-fry for another minute.
Serve hot with lime wedges on the side.
Tips and Variations:
If you're not a fan of shrimp, you can substitute it with chicken or tofu.
To make this dish vegetarian-friendly, omit the shrimp and substitute the fish sauce with soy sauce.
Add more vegetables to the dish such as carrots, bell peppers, or broccoli to make it more nutritious.
For a spicier Pad Thai, add more red pepper flakes or some chopped Thai chili peppers.
To make this dish gluten-free, use a gluten-free fish sauce or soy sauce.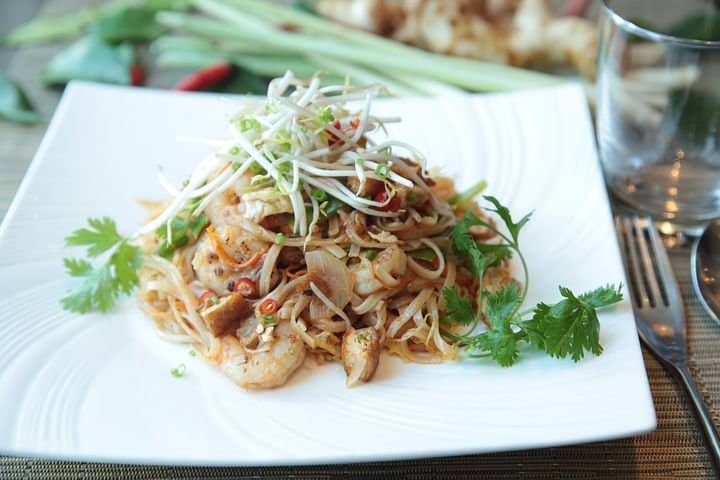 Conclusion:
Pad Thai is a quick and easy dish that you can whip up in no time. With its blend of sweet, tangy, and savory flavors, it's sure to become a favorite among your family and friends. Whether you're looking for a quick weekday dinner or a tasty lunch, this recipe is a great option. Give it a try and experience the authentic taste of Thai street food in the comfort of your own home.
Read More | Bholaa Box Office Collection: Ajay-Tabu's Magic Strikes Again on Day 1
Trending Keywords: Pad Thai recipe, Thai cuisine, street food, rice noodles, shrimp, tamarind sauce, easy recipe, quick meal, vegetarian-friendly, gluten-free.